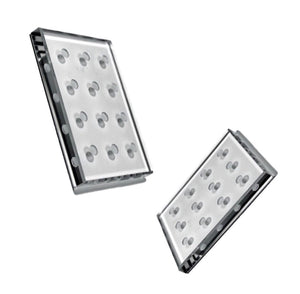 Our gorgeous crystal adhesive tray is a critical tool for decreasing fan making time. Fix tails, boxy bases, and adjust fan width and symmetry while keeping your glue neat! This tray has been designed to be heavy enough so that it stays put and won't slide around your work space - even if it's a slanted lash pillow. Beautiful beveled edges for safe handling. 
Always dispense your new glue drop in an empty well. 
12 holes per tray
To Clean:
Add a drop of water to your old adhesive drop let dry overnight then gently pop out the next morning.
Or
Soak overnight in pure acetone. Rinse with soap and water and reuse.
Tip:
It's helpful to have enough trays for the week. 1 tray for 1 or 2 appointments so that you can drop them into your jar of acetone after each client or once the tray is full and rinse them once a week. I like to use one per client for sanitary reasons. 
Note: Glue tray wells are hand drilled. Because of the handmade component there are some wells that are not perfectly round or have a little notch. These slight imperfections do not affect the functionality of the trays.
Size:
7 cm x 5 cm x 0.4 cm
1 piece per package