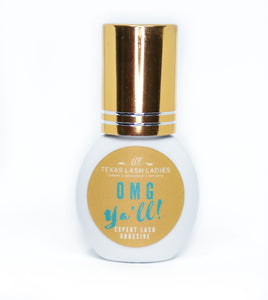 OMG Ya'll! Expert Lash Adhesive is black with a very thin viscosity. Can be used for Classic and Volume lash extensions and has retention up to 8 weeks. The dry time is .5 seconds and an amazing range of 20-80% humidity and 65-77 F temperature range. This adhesive can be used on all clients. 

OMG Ya'll! Expert Lash Adhesive should be changed every 10 minutes if using on jade stone and every 20-30 minutes if using in a glue weld. OMG Ya'll! has very low fumes, waterproof, and oil resistant! Great for advanced and expert lash artists. 
Storage: OMG Ya'll! Expert Lash Adhesive can be stored unopened for up to 3 months in the refrigerator. Once opened do not store in refrigerator instead keep in airtight container with silica packet in a cool area. Keep away from direct sunlight and heat. Make sure bottle is closed securely after each use. Once opened replace every 4-6 weeks. 
Size: 5ml and Sample Size available 
Ingredients: Ethy-cyanoacrylate, PMMA, HQ, Carbon Black
Be sure to keep your adhesive nozzle clean in between drops. If you clog your adhesive or get your cap stuck after using we are not responsible for replacement or refund.
my ONE and ONLY
Once I found this glue, there was no going back.
Super fast dry time too!
Omg glue
I honestly love love how quick it dries and sticks but the region wasn't good at all. My clients said that had a lot of their lashes fall out the next day!! But I absolutely LOVE pretty in pink. It has the best retention ever!!!