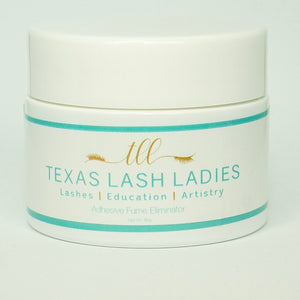 Our amazing Adhesive Fume Eliminator absorbs and eliminates fumes from curing adhesive. This gel captures and lock fumes in the jar, refreshes air and protects technician from inhaling fumes, and protects client from being expose to allergens.
 Usage information:
Open lid and place near to your adhesive
Leave it open during lash application
Use one Adhesive Fume Eliminator per lash station
Replace your Adhesive Fume Eliminator every time your replace your adhesive.
Disclaimer: This product does not guarantee no allergies to sensitive eyes or clients who has history of allergies. This product captures, locks, and minimizes amount of inhaling fumes from the open glue drop. 
80ml.
Clients love!!!
After trying this out with serval clients, I've notice they don't hold their breath In as much and it also helps them relax through their appointment.