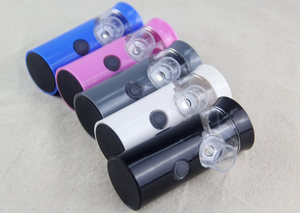 Specifically designed for lash artists, the Lash Nebulizer provides the perfect amount of moisture to get the polymerization process of the adhesive started and to reduce the overall cure time. No more having to wait 24 hours for your clients to get their lashes wet. The Lash Nebulizer also helps with eye irritations due to adhesive fumes and rehydrates your clients eyes. This is 
definitely a must have for lash artists!
Lightweight, easy to carry, portable 
Only 10 cm in length and less than 1 pound in weight
Built-it rechargeable battery, can continue working for 3 hours after fully charged
Two working modes, large mist and small mist depending on your needs
Auto-timer function, when working for 15 minutes, nebulizer will turn off automatically.
Comes with USB charger and carrying pouch
To turn on hold down the middle button until you see colors flashing, then push button one more time for large mist or twice for small mist. 
To turn off hold down middle button until it turns off.
To Use: Hold the Lash Nebulizer 5-6 inches from your clients lashes and nebulize for 30 seconds each eye. Due to the water molecules being very small you won't have to worry about instant curing of your adhesive! If you see water droplets on your clients lashes you are holding the Lash Nebulizer too close to their eyes.
CAUTION: USE ONLY DISTILLED WATER OTHERWISE CLOGGING CAN OCCUR.