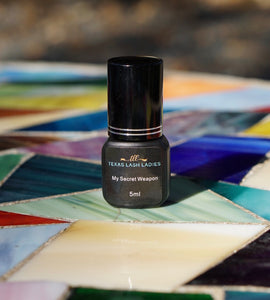 My Secret Weapon adhesive is a 1-2 second drying adhesive that works amazing in 30%-70% humidity. Great for classic or volume eyelash extensions. My Secret Weapon should be changed every 10 minutes if using on jade stone and every 20-30 minutes if using in a glue weld. My Secret Weapon has a 6-7 week hold, low fumes, medium thickness, and black in color. Great for advanced and intermediate lash artists. 
Storage: My Secret Weapon can be stored unopened for up to 3 months in the refrigerator. Once opened do not store in refrigerator instead keep in airtight container with silica packet in a cool area. Keep away from direct sunlight and heat. Make sure bottle is closed securely after each use. Once opened replace every 6 weeks. 
Size: 3ml and Sample size available 
Ingredients: Alkoxy2-Cyanoacrylate, Polymethy Methacrylate, Black Color
Be sure to keep your adhesive nozzle clean in between drops. If you clog your adhesive or get your cap stuck after using we are not responsible for replacement or refund.