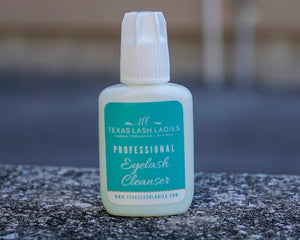 Our amazing liquid professional eyelash cleanser dissolves and removes stubborn dirt, oil and makeup from the natural eyelashes. This hypoallergenic cleanser is scent free and great for even the most sensitive clients.
When used in conjunction with Texas Lash Ladies line of adhesives, the extensions form a stronger bond to the natural eyelashes and allows the adhesive to perform at its best. 
Our Professional Eyelash Cleanser improves retention and bonding power of Texas Lash Ladies line of adhesives by up to 30%. Use with our pre-treatment & primer solution and increase your retention by 50%!

Directions:
Simply add 1 drop to 2 micro swabs and comb through the lashes from root to tip. Then rinse with warm water.
If your client has come in with a lot of dirt or makeup we suggest adding a foam cleanser like Prolong to remove caked on makeup and dirt.
15ml bottle