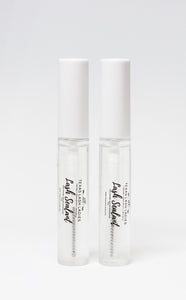 Our Sealant is used to protect eyelash extensions from oils, moisture, and dust. Our Sealant also helps to extend the life of your eyelash extensions.
Sealant is Clear in color and comes with a mascara wand attached.
Sealant can be sold as retail for your client to use daily to protect their lashes. Makes a perfect mascara safe for lash extensions, but will not add thickness or volume to the extensions as it is a protective coating.
Use our Sealer to give your client a whispy look when doing volume.

Directions: Apply sealant at the end of the treatment using a clean disposable mascara wand. Make sure eyes are closed when applying.
Home Use: Clients only need 1 or 2 coats of the sealant. Adding too many coats will result in hard removal and clumping. Our sealants are NOT meant to add volume or thickness to your extensions. Remember it is a protective coating.
1 per package